Garvan researchers use whole genome sequencing to diagnose and treat four-year-old Karla's debilitating arthritis
Karla is a happy, energetic girl who loves jumping on her trampoline and riding her bike. But an active, pain-free life wasn't something that Karla always enjoyed.
Karla had started walking when she was one but just a few months later, she was finding it difficult to hold herself upright. By the time she was twenty months old, she'd been diagnosed with childhood onset autoimmune hepatitis, which severely affected her liver and led to hospitalisation.
As soon as her liver was stabilised, Karla's joints became inflamed, causing her considerable pain. Less than two years later, she was diagnosed with inflammatory arthritis. This debilitating illness meant Karla could often only walk 20 metres before needing to be carried, due to the discomfort and stiffness she experienced.  
For the three years following her initial diagnosis, Karla was treated with a series of immunosuppressant drugs, including steroid prednisolone. However, these drugs had many side effects, didn't relieve her joint pain and caused her distress.
Suspecting that a genetic disorder might explain her unusual mix of symptoms, Karla's rheumatologist referred her to CIRCA – a Garvan-initiated multidisciplinary team of researchers and clinicians who investigate the causes of rare immune diseases. The team at CIRCA sequenced Karla's genome and identified a single variant in the six billion letters that made up her DNA sequence. This variant was responsible for her condition.
"Through whole genome sequencing, we discovered a gene variant in Karla's CTLA4 gene, which provided a genetic diagnosis to the immune symptoms she was experiencing," says Professor Chris Goodnow, Head of Garvan's Immunogenomics Lab.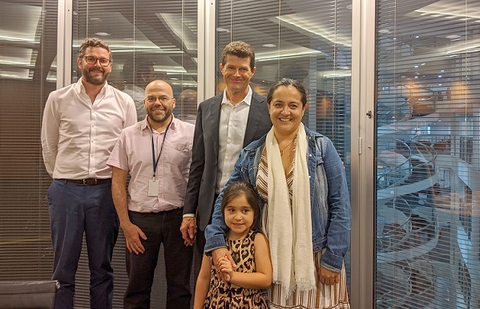 CTLA4 is a 'checkpoint' protein which helps control the body's immune responses. In Karla's case, her gene variant meant that an important brake in her immune system was failing, causing it to attack her joints and liver.
Fortunately, the team at CIRCA knew of a drug called Abatacept – a synthetic form of the CTLA4 protein – which was already being used to treat adults with rheumatoid arthritis.
Two years after her genetic diagnosis, Karla's life has transformed. By supplementing her immune system with fortnightly injections of Abatacept, her condition has improved to the point that her arthritis is now in remission.
"I see a huge difference," Barbara says. "Before, Karla used to limp a lot because her joints were sore – that's what she was used to, the pain, and it was constant. Now she doesn't have the pain, so when it's about time for her next dosage, or if she hits her arm by accident, she tells me because she knows what the difference is."
Without whole genome sequencing, Karla might not have received this life-changing treatment.
"The challenge we are now pursuing is to use genomics to identify all children or adults who will respond exceptionally well, like Karla, to this targeted treatment," says Professor Goodnow.