Collien thought her newborn, Stella, was just a colicky baby. But at only three weeks old, Stella started presenting with signs of what would later be diagnosed as a life-threatening immune disorder.
At first, doctors thought Stella was suffering from severe eczema or baby acne. With worsening symptoms, Stella spent one week out of every month in the hospital, completely wrapped in bandages. Repeatedly, Stella's family was told her skin was one of the worst cases of eczema they'd seen. Her hands were frequently covered so she wouldn't scratch her raw and painful skin. Her parents were left feeling helpless. Stella became extremely underweight and at 11 months of age was given a feeding tube to treat her failure to thrive – all without a proper diagnosis.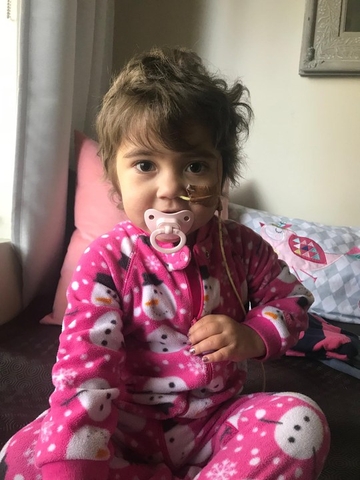 Race against the clock
At age one and a half, Stella's doctors at the Children's Hospital at Westmead and Sydney Children's Hospital Randwick referred her case to the Clinical Immunogenomics Research Consortium Australia (CIRCA) – a research network of scientists and clinicians with diverse backgrounds that come together to understand the causes of disease in patients with rare immune conditions.
"I'm really interested in understanding why the immune system works well in most individuals, but not so in others," says Professor Stuart Tangye, who leads CIRCA. "We're working out what it takes to make a really productive and robust immune response and are quickly identifying the underlying genetic causes in people with faulty immune systems, and finding therapies for patients who need our help right now."
Through whole-genome sequencing at Garvan, as part of the CIRCA program, it was discovered that Stella had a rare genetic variation in a molecule called DOCK8, which impairs the function of immune cells by preventing them from reaching and clearing pathogen infections in the skin.
Stella has DOCK8 immunodeficiency syndrome - a rare immune disorder, which cripples the function of immune cells. This leads to recurrent bacterial, viral and fungal infections of the skin and respiratory system. 
Most, if not all, children with DOCK8 deficiency have had to undergo bone marrow or cell transplants to survive, with some even tragically losing their lives to this disease.
There's still much ahead for Stella and her family. After a bone marrow transplant, and thanks to the early diagnosis because of Garvan and the CIRCA program, Stella's prognosis is looking good.
We need your support to help the thousands of other Australians living with undiagnosed immune diseases. As an area of research still in its infancy, none of this work is possible without the generosity of visionary people like you.