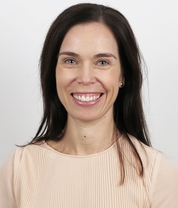 Amber Johns
APGI Executive
Dr Amber Johns' research experience has focused on establishing and coordinating the development of complex, novel, large-scale research projects. Amber has clinical experience in pathology and cytology, and has been instrumental in building the Australian Pancreatic Genome Initiative (APGI) as part of Australia's contribution to the International Cancer Genome Consortium.
Through the APGI, Amber developed and coordinated a national pancreatic cancer biobank network, with international linkage. Amber has the unique blend of clinical, community and scientific experience, which she has successfully applied in various settings with a range of stakeholders. Her unique skill set has been pivotal in the success of not only her own local groups, but providing a platform for cancer research groups across the world to thrive, through her ability to be the link between the research team, the clinical team, and patient and community groups.
Amber has extensive experience in ethical, policy and societal issues in research and currently advises the Federal Government in relation to genomic sequencing and the return of research results.
Awards
2012

Recipient of NSW Cancer Institute's Inaugural Wildfire Award for Outstanding Cancer Research Group

2014

Recipient of NSW Cancer Institute's Wildfire Award for Highly Cited Research Publication