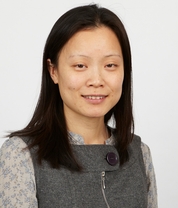 Dr Lei Zhang
Group Leader
Dr Lei Zhang obtained her BSc degree in Wuhan University, China, with a major in Virology. In 2001, she came to Australia to pursue a PhD degree in the Biochemistry department, University of Tasmania. During her PhD, she investigated the hemodynamic actions of insulin on microvasculature in relation to insulin's metabolic effects on glucose homeostasis.
After the completion of her PhD in 2005, with an interest in diabetes and obesity research, Lei came to Professor Caroline McMillen's lab at the University of Adelaide working on projects investigating how intrauterine restriction leads to increased risks in developing adulthood cardiovascular disease, obesity and insulin resistance. It was through this experience that she developed a strong interest in central regulation of adiposity associated with insulin resistance.
This interest led to Lei's appointment in Professor Herbert Herzog's laboratory at the Neuroscience Research Program of the Garvan Institute of Medical Research in 2006, where she started to investigate how neuropeptide Y family peptides regulate energy balance and glucose homeostasis. After obtaining her NHMRC project grant in 2012, she established her research group with particular interest in finding out how neuropeptides regulate appetite, energy metabolism, physical activity, body composition and glucose homeostasis, and whether neuropeptide receptor(s)-targeted strategy would confer benefits for obesity treatment.
In addition, by using an activity-based anorexia mouse model, her group studies the central mechanisms underlying the paradoxical hyperactivity often observed in anorexia nervosa patients. The neuropeptides they are focusing on currently include neuropeptide Y family peptides and RFamide family peptides.