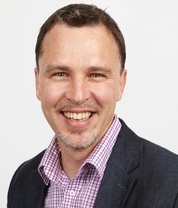 Associate Professor Paul Baldock
Visiting Scientist
Associate Professor Paul Baldock completed his PhD in Human Physiology at the University of Adelaide in 2001. He joined the Osteoporosis and Bone Biology Division at the Garvan Institute of Medical Research and held a postdoctoral position until he was appointed Head of the Skeletal Metabolism Group in 2005. He moved to the Neuroscience Division in 2008 before returning to the Osteoporosis and Bone Biology Division in 2013 to take up his position as an ARC Future Fellow.
Paul has a sustained record of research excellence, as detailed by prizes from a number of skeletal and general organisations. In 1996, he was awarded the Campion Ma Playoust Prize for Best Researcher under 30 from the Australian Society from Medical Research's. Between 2004 and 2006 he was awarded a total of 4 Young Investigator Awards from the International (IBMS) and the American (ASBMR) Societies for Bone and Mineral Research. In 2006 he received a Fellowship from the International Human Frontier Science Program, and in 2013 was awarded an ARC Future Fellowship.
Paul has been recognised as one of the fundamental contributors to this rapidly evolving field, being invited to present plenary symposia at the 2 most prestigious bone meetings (IBMS-2008 and ASBMR-2009), as well as invited symposia at broader endocrine meetings in the US (The Pituitary Society), Europe (International Symposium on Endocrinology and Metabolism, International Conference on Children's Bone Health) and Asia Pacific (Asia Pacific Paediatric Endocrinologist Society). He has been on the Program Organising Committee of international Bone conferences (IBMS), and is currently on the Organising Committee for the Annual meeting of the Australian and New Zealand Bone and Mineral Society and the Australian Endocrine Society.
He envisages that his research work will redefine the regulatory influences both to and importantly, from bone and contribute to a new generation of therapeutic tools to modulate bone mass, as well as obesity and diabetes.
Awards
1994

Australian Society for Medical Research - Campion Ma Ploust Award

1996

Australian Society for Medical Research - AMRAD award

2001

International Bone and Mineral Society - Young Investigator Award

2002

American Society for Bone and Mineral Research) - Plenary Poster Award - Annual Scientific Conference

2003

American Society for Bone and Mineral Research - Young Investigator Award

2004

American Society for Bone and Mineral Research - Anabolic Agents for the Treatment of Osteoporosis Young Investigator Award

2005

American Society for Bone and Mineral Research - Advances in Mineral Metabolism (Annual Scientific Conference) Young Investigator Award

2006

International Human Frontier Science Program Organisation - Short-Term International Fellowship - University Hospital Geneva - Switzerland.

2007

Australian and New Zealand Bone and Mineral Society/AMGEN - Outstanding Abstract Award - National Annual Scientific Meeting

2007

National Health and Medical Reserch Council - Career Development Award

2008

Australian and New Zealand Bone and Mineral Society - Kaye Ibbertson Award for Bone and Mineral Medicine

2013

Australian Research Council - Future Fellowship