About us

Who we are

Our services

How we support your research

Publications
Led by genetic counsellors, My Research Results (MyRR) is a national evidence-based program working alongside researchers to return clinically actionable genomic information to research participants.
Returning genomic information to research participants enables prevention of disease, early diagnosis and/or specific treatments. It has the potential to change the course of the disease, or lead to improved health outcomes for research participants and their family members.
Genetic counsellors at MyRR work with researchers to notify research participants when clinically actionable genomic results are identified. We:
Help research participants decide whether they would like to be informed about genomic information that may have value for them and their family's health,
Return research results to the participant, and
Facilitate referral to clinical genetic services to develop a health management plan.
MyRR follows best practice international guidelines.
If you are a participant in a research project or have received a letter saying you can call My Research Results, please contact us directly or refer to the information on our participant site: myresearchresults.org.au
My Research Results is operated by qualified genetic counsellors: allied health professionals who have specialist knowledge and skills in human genetics, counselling and health communication.
Based at the Garvan Institute of Medical Research, Sydney, MyRR is supported and informed by expert clinicians, researchers, educators and consumers.
At My Research Results, we believe in the value of returning clinically actionable results to research participants through an evidence-based process. The National Statement on Ethical Conduct in Human Research states that researchers must have an ethically-defensible plan for managing research results. However, it is up to researchers to determine what that plan looks like and how it will be enacted.
We are here to bridge that gap and support researchers to return results to participants in an ethical, evidence-based and supportive way. We provide the following resources and services to make this happen:
Support for researchers who are developing an ethically-defensible plan for managing clinically actionable genomic information
Assistance with drafting protocols and consent forms
Return results to participants using an evidence-based process, including telephone genetic counselling by qualified genetic counsellors
Online resources available to research participants
Expert advisory committee including clinicians, researchers, educators and consumers
Expert advice on gene lists and variant interpretation
Data stored in a secure database
Reporting outcomes back to researchers
Collaborative service agreements between researchers and My Research Results.
At My Research Results, we start by understanding your research and how we can help. My Research Results is a flexible service and can be tailored to your project needs. We can partner with you at any stage of your project. If you're just starting out, or already have results you'd like to return to participants, we can develop a strategy to help you.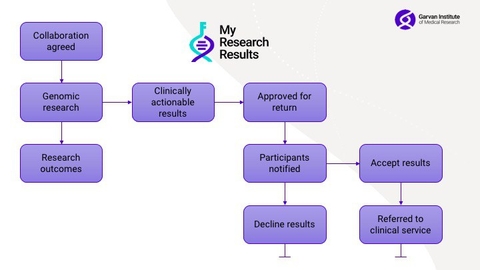 If you partner with us, we will develop a tailored service agreement outlining roles, responsibilities and pricing for your project. Once you've completed your research, we can help identify clinically-actionable genomic information, notify participants of the information and support them through the process.
We provide genetic counselling to research participants, decision support around whether to receive their results and referral to a clinical genetics service for confirmatory testing and ongoing care.
Contact us on the details below to discuss your project needs.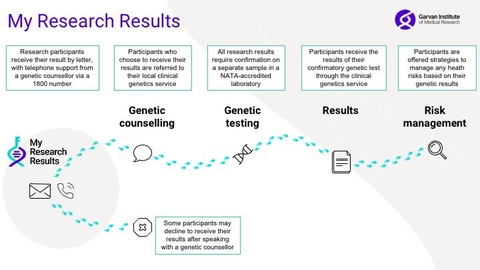 Related resources and publications
Forrest L, Young M-A. Clinically Significant Germline Mutations in Cancer-Causing Genes Identified Through Research Studies Should Be Offered to Research Participants by Genetic Counselors. J Clin Oncol. 2016 Mar 20;34(9):898-901.
Kalia SS, Adelman K, Bale SJ, Chung WK, Eng C, Evans JP, Herman GE, Hufnagel SB, Klein TE, Korf BR, McKelvey KD, Ormond KE, Richards CS, Vlangos CN, Watson M, Martin CL, Miller DT. Recommendations for reporting of secondary findings in clinical exome and genome sequencing, 2016 update (ACMG SF v2.0): a policy statement of the American College of Medical Genetics and Genomics. Genet Med. 2017 Feb;19(2):249-255. doi: 10.1038/gim.2016.190. Epub 2016 Nov 17. Erratum in: Genet Med. 2017 Apr;19(4):484. PMID: 27854360.
Tudini, E., A.L. Davidson, U. Dressel, et al. 2020. "Implementing gene curation for hereditary cancer susceptibility in Australia: achieving consensus on genes with clinical utility." Journal of medical genetics. doi:10.1136/jmedgenet-2020-107140 and the EviQ Clinically Actionable gene table
Clinical Genomics Research Resource at the NSW Health Centre for Genetics Education.
Website
myresearchresults.org.au
Phone
1800 00 MYRR or 1800 00 6977