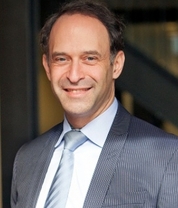 Professor Jerry Greenfield
Head - Clinical Diabetes and Metabolism
Professor Jerry Greenfield is an Endocrinologist and clinical researcher. He is Head of the Department of Endocrinology and Director, Diabetes Services, at St Vincent's Hospital. His current positions and roles include: Professor of Medicine, University of New South Wales; Editorial Board member, Clinical Obesity.
Jerry previously held an NHMRC Neil Hamilton Fairley Postdoctoral Research Fellowship, which allowed him to study in the Departments of Medicine and Clinical Biochemistry, University of Cambridge, Addenbrooke's Hospital, Cambridge, UK (2005-6, Supervisors: Professor Stephen O'Rahilly and Dr Sadaf Farooqi). He undertook a PhD at the Garvan Institute of Medical Research from 2001-2004, under the supervision of Professors Donald Chisholm, Professor Lesley Campbell and Professor Katherine Samaras). He graduated from the Faculty of Medicine with Honours (class 1) from the University of NSW in 1995.
His research is entirely driven by clinical outcomes. Over the past five years, Jerry has published more than 175 manuscripts in top-ranked endocrinology and diabetes journals. Jerry has recently been invited to speak at international conferences including the European Association for the Study of Diabetes (2022) and the International Congress of Obesity (2022), as well as national meetings including the Annual Scientific Meetings of the Endocrine Society of Australia and the Australian Diabetes Society. He is an Executive National Council Member, Australian Diabetes Society.
His recent discoveries have identified a group of overweight and obese humans who appear to be at lower risk of diabetes and heart disease than other obese individuals. A major focus of his laboratory is to establish the factors that confer this metabolic protection and to devise a set of clinical criteria that will assist in their identification in clinical practice. The outcome of this research will expand knowledge regarding the relative importance of metabolic abnormalities, such as abdominal and liver fat, on the development of insulin resistance and diabetes and complicating factors. This work will determine what protects the overweight and obese people and whether they remain at lower risk of metabolic disease over long periods of time. Jerry is also focused on the identification of specific genetic defects that cause diabetes and obesity in humans. His current focus relates to identifying alternative pathophysiological contributors to type 1 diabetes that may contribute to the development of macrovascular and microvascular complications. Physiological studies have identified insulin resistance as a common abnormality in type 1 diabetes that can be targeted to improve glycaemic control.
Awards
1989 - 1994

Inaugural Alumni Association Scholarship - University of New South Wales

1995

Graduation Prize in Surgery for best performance in the surgery component of Integrated Clinical and Community Studies and the surgery component of integrated clinical studies 6 c3801 (BSc (Med) MB BS) - Faculty of Medicine - University of New South Wales

2002

Greenfield JR. NHMRC Travelling Award for Research Training Scholarship

2004

Greenfield JR. NHMRC Medical/Dental Award for Research Training (PhD)

2005

PhD Thesis Prize - Garvan Institute of Medical Research

2008

James DJ - Greenfield JR. Diabetes Australia Millennium Research Award

2010

Don Chisholm Fellowship - Garvan Institute of Medical Research

2017

Ranji and Amara Wikramanayake Clinical Diabetes Award - Australia Diabetes Society

2019

Greenfield JR - Snaith J - Holmes-Walker J - Girgis C - Samocha-Bonet. Diabetes Australia Millennium Research Award

2020

University of NSW 2020 Arc Postgraduate Council Research Supervisor Award