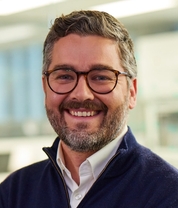 Associate Professor Owen Siggs
Strategic Program Lead

Co-Lead, Rare Disease Program

Program Director - Rare Disease / Laboratory Head - Genomic Medicine
Associate Professor Owen Siggs is a mid-career clinician-scientist and Snow Fellow. He is a member of the Garvan Faculty and Centre for Population Genomics, head of the Genomic Medicine Lab, and co-lead of the Garvan Rare Disease Program.
Owen trained in science and clinical medicine in Adelaide, in immunology and genomics at the John Curtin School of Medical Research with Professor Chris Goodnow, as a John Monash Scholar at The Scripps Research Institute in California with Nobel Laureate Professor Bruce Beutler, and at the University of Oxford with the Nuffield Professor of Medicine Richard Cornall. He was then a Sir Henry Wellcome Postdoctoral Fellow at the Wellcome Sanger Institute and a Junior Research Fellow at the University of Cambridge, and a Visiting Fellow at the Broad Institute of MIT and Harvard.
His current research interests lie in the genomic architecture of immune and ophthalmic disease, and leverage large clinical and genomic datasets, and new genomic technologies. He is actively engaged in the translation of these findings into clinical practice, particularly in the area of genomic risk prediction, and is a co-founder and director of Seonix Bio.
Awards
2007

John Monash Scholar

2007

Skaggs Oxford Scholar

2013

Junior Research Fellow - University of Cambridge

2013

Sir Henry Wellcome Postdoctoral Fellow

2021

Dr. David L. Epstein Award

2021

Snow Fellow